QUAKER CITY GRINDING MILLS
Manufactured by the Quaker City Grinding Co., a division of QCG Systems.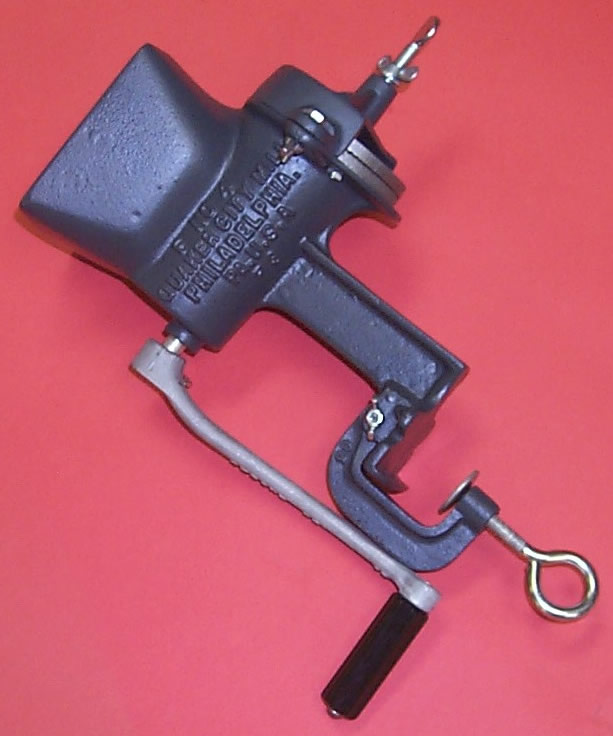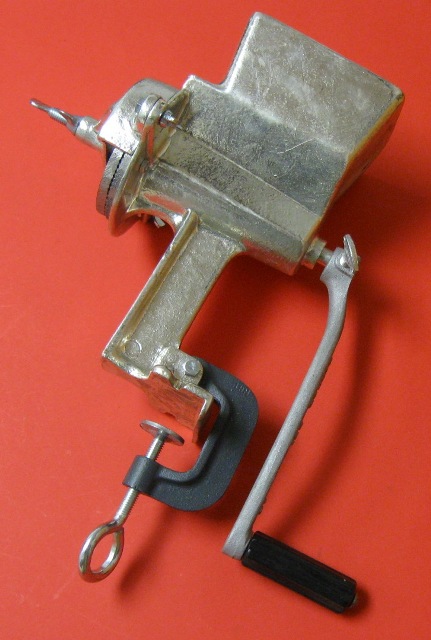 4-F Painted & Plated Hand Mill
Parts List and Exploded View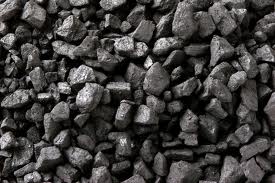 The original Quaker City Grinding Mill (QCG). Over 100 years in service. The F4 manual, disk grinding mill is used in fine testing labs around the world. The F4 mill head construction is made of sturdy, durable cast iron. The F4 manual mill is painted but it is also available in a special TIN coating acceptable for food grade and pharmaceutical materials and makes clean up between batches relatively simple and complete as the surfaces of the mill and auger are very smooth.
The F4 grinding mill head can be easily disassembled for cleaning without the use of any special tools.
The grinding plates are made of a hard iron alloy designed for clog resistance and long life. A new optional acicular iron grinding plate has now been introduced as an offering, a stronger plate that "work hardens" as the grinding plates are used in service.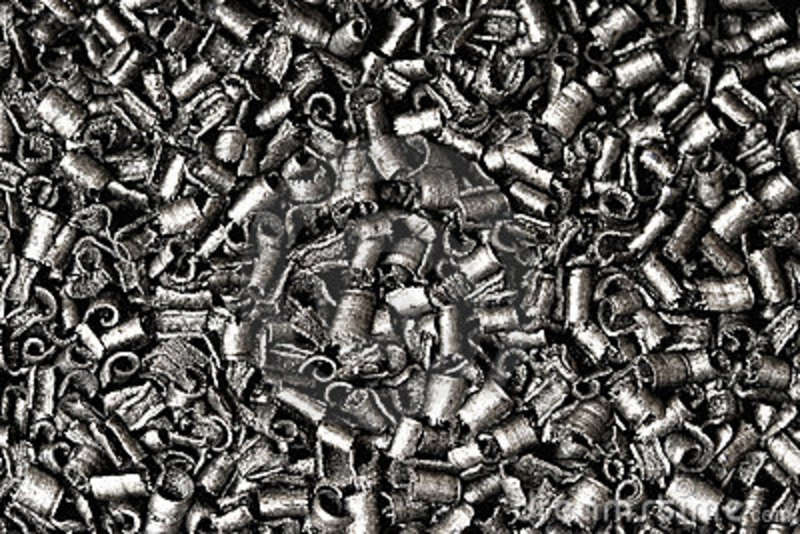 Plate to plate clearance is easily adjusted by hand in order to change the mesh size range desired. Generally these mills, with a one pass effort and fine plates installed, yields ground material between 20-80 mesh with some yield down to a size of 100 mesh. Instituting a second pass thru with the grinding mill generally increases higher yields in the finer mesh sizes.
The mill is easily attached to a flat table top using the included C-clamp on the bottom of the grinding mill.
The complete unit ships in one box.
The customer has the choice of either 4B Plates for fine grinding or 4CS Plates for coarser grinding.
The customer has the choice of either Tooth Feed auger for dry grinding or Worm Feed auger for wet or oily grinding.
The mill is painted but a special TIN coated grinding mill is available, as an option.